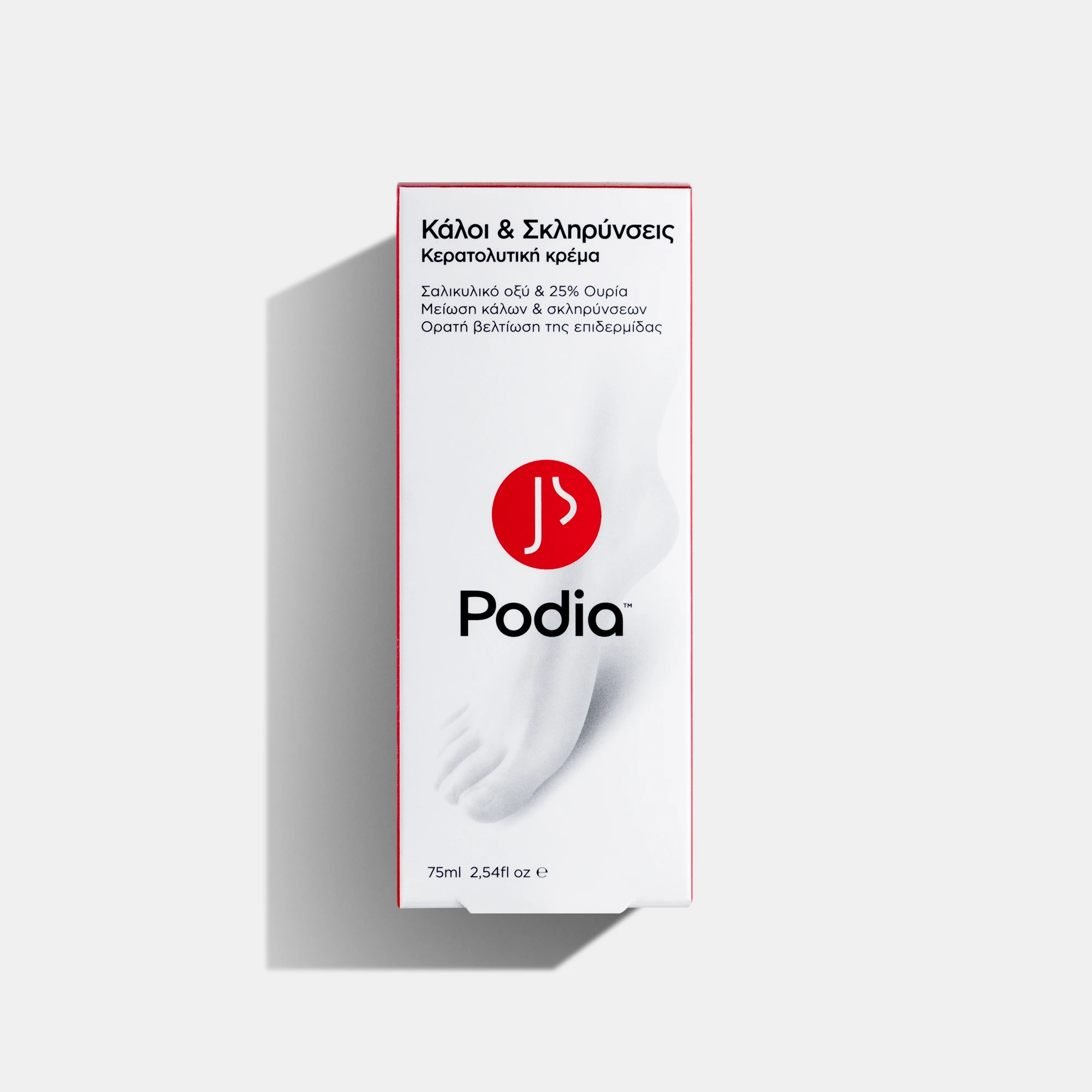 Anti-Callus - Keratolytic Cream
Treating and Removing Calluses, Corns and Hard Skin.
Cream in 75ml container.
Twice per day Toes. Sole, Metatarsal, Calluses, Corns and Hard Skin (Hyperkeratosis), Dry Skin.
Podia Anti-Callus Keratolytic Cream is a specialized cosmetic care product against calluses and hyperkeratosis, helping the restoration of skin's healthy appearance and feel.
Keratolytic and exfoliating action.
Deep moisturizing action for dry, rough and dehydrated skin.
Protection against hard and dry skin reoccurring effects.
Διακρίσεις
Βραβείο Gold
Πόδια Βαριά & Κουρασμένα - Καινοτόμο Προϊόν Φαρμακείου
Βραβείο Gold
Πόδια Βαριά & Κουρασμένα - Καινοτόμο Προϊόν Φαρμακείου
Feet and toes' Calluses, Corns and Hard Skin
The appearance of a callus, corns or hard skin on the surface of the foot, sole or toes is usually the skin's natural reaction to repetitive pressure and friction. Therefore, it develops a harder layer, known as stratum corneum, to create a protective shield and avoid injury of the most sensitive substrates.
Differences and similarities between calluses and corns
Although they are different in their formation, their function is generally the same. Most typical cases of corns are caused by internal friction and repetitive pressure on metatarsus, heel, or big toe bones, while calluses are usually a result of external pressure and friction on the skin.
Treatment of corns and calluses
As always, the best treatment for calluses, corns and hard skin of the foot is to prevent their appearance. But still, most of the time, their appearance is inevitable. Moreover, their painful consequences could also be inevitable, if we do not act immediately. Podia Anti-Callus Keratolytic Cream specifically targets their structure, to soothe and eliminate hard skin formations, while also offering protective and soothing hydration to the skin, to restore its natural properties and prevent the formation of new calluses and spots of hyperkeratosis.
Softens and removes calluses and hyperkeratotic skin.
Restores the healthy appearance and feel of the skin.
With a special composition for deeper absorption and hydration.
Read more
Video
Video title goes here
Curabitur quis diam et mauris dapibus tincidunt ullamcorper quis dolor. Curabitur et augue tincidunt, tristique felis vel, feugiat magna. Maecenas porttitor nisl est, in ultrices augue pharetra pulvinar. Proin hendrerit at tellus ac convallis. Nunc consectetur varius condimentum. Etiam ut accumsan dui. Nulla elementum venenatis turpis malesuada feugiat.
Multipurpose action
Effective Keratolytic action and Hydration
The 25% of Urea in its composition enhances the absorption of the active ingredients, while offering maximum rehydration to the skin. The Salicylic Acid offers targeted exfoliation by reducing the cell's cohesion on the stratum corneum.
Enhanced moisturizing and keratolytic action.
Safe and targeted exfoliation.
Always protected
In a special Airless container
The specially designed Airless container of the Keratolytic Cream fully preserves its content in vacuum, protects it effectively until the last application, and offers 360o of smooth and easy use.
Effective content protection
Optimal quality and longer product life
Easy to use in 360o
Preserved quality to the last drop
Podia Keratolytic Cream aims at the effective and painless treatment of calluses and hyperkeratosis, while restoring skin's health. Its enriched composition includes urea at 25% for deep moisturizing action and better absorption, as well as salicylic acid for effective keratolytic action. It is protected by the specially designed Airless container of Podia, to ensure the best quality and maximum life span of the product.
The combination of Bacillus Subtilis fermentation extract with OLUS Oil enhances exfoliation, reveals healthy skin, softens hard skin by providing a silky-smooth feeling, and strengthens the natural barrier of transdermal water loss.
Restoration of smooth and healthy skin.
Softening action and enhancement of skin's elasticity.
Podia Anti-Callus Keratolytic Cream's combination of ingredients aims to the maximum and most comprehensive care for the removal of calluses and hard skin, while offering keratolytic, exfoliating and moisturizing action, in order to cover every single need against the nature of the problem.
5.2-8.2% of non-fungal foot conditions involve corns and calluses
Source
25% of Urea in its composition
Application Tips
Anti-Callus Keratolytic Cream
Prevention, care and treatment are combined to effectively in one product to quickly and painlessly face the problems of calluses and hard skin area on foot and toes. Podia Keratolytic Cream is created to offer complete care, maximum relief and protection.
Step 1
As always, the first step begins with hygiene. After taking care of our feet, we wipe them carefully and dry them thoroughly.
Step 2
Apply a sufficient amount of Anti-Callus - Keratolytic Cream to cover the affected areas with corns and calluses, and rub gently.
Step 3
Repeat the process for a second time, overnight.
Ingredients
Anti-Callus - Keratolytic Cream
Urea 25%
The content of Podia Keratolytic Cream in Urea at 25% is a determining factor of all of its active ingredients' effective applications, as it allows their deeper absorption. At the same time, urea offers deep moisturizing action to the keratin layer of the skin.
Salicylic acid
Pure Salicylic Acid, a key ingredient of keratolytic action, aims to reduce the cohesiveness of cells on the spot of hyperkeratosis, leading to effective and safe exfoliation.
Bacillus Ferment
It is a natural fermentation extract of bacillus subtilis, which offers a gentle but effective exfoliating effect on the skin, helping to naturally remove the outer layer of the stratum corneum.
OLUS Oil
Known for its excellent softening properties, it provides a silky smooth feeling to the skin. It maximizes the effects of the moisturizing action of the Keratolytic Cream, while creating a shield of protection against the transdermal loss of skin's natural moisture.
Glycerin
Glycerin is one of the main ingredients in the care of dry skin and the protection of its natural moisture. It is hygroscopic, which means that it has the property of absorbing moisture and offering it to the skin, while at the same time enhanced exfoliation.

Sucrose Esters
Sucrose esters are a component of natural origin and that provides excellent compatibility with the skin, contributing to its natural process of regeneration.

Pigments
No addition of artificial colors and colorants.
Podia Anti-Callus Keratolytic Cream is a dermatologically tested, specialized cosmetic care product.
Contraindications and Special Instructions
The use of keratolytic substances in soft and irritated corns is not recommended. 
Anti-Callus Keratolytic Cream is intended exclusively for external use. 
Do not use on an open wound or injured skin.
Please note that the information provided on this site does not in any way replace medical advice and treatment. In case you have or suspect that you have any health problem, you should seek medical advice and ONLY follow the medical instructions. Always read the instructions for use and precautions mentioned in our product brochures carefully.
Οι επαγγελματιες μιλουν για το προϊον
Η γνώμη των ειδικών
FOLLOW OUR INTEGRATED CARE ROUTES
For the daily care of your feet
Because every step should comfortably lead you to the next one.
Every day, our feet are under constant pressure, literally and figuratively. The literal pressure and friction commonly focus on our heel, metatarsus and toes cause the skin of the foot to react by creating a defensive hard coating in order to protect the inner softer layers. This creates calluses and corns on our feet, especially when the skin has a lower moisture level.
Your heels literally and figuratively support the weight of your steps. That's why they deserve their own specialized care and treatment routine, which includes effective protection and drastic dry skin repair, to prevent hard skin and their painful and irritating consequences.
Blog
Useful articles and more information
DO YOU HAVE ANY QUESTIONS?
Just let us know!
COMBINE IT!
Suggested products
Corns & Calluses, Patches
Self-adhesive plasters for painless removal of corns and calluses on the toes.
Corns & Calluses, Diabetic Foot Care, Foot care
With 100% natural soap formula specially designed for clean, smooth and soft skin.
Corns & Calluses, Foot care
Professional specifications for the removal of hard skin over the heel and metatarsus area