Sport Cryogel against Muscle & Joint Discomfort
Muscle and joint tension.
Cryogel in 100ml container.
As many times as needed per day, Ideal after intense exercise or intense physical exertion.
Innovative cryogel offers a treatment of myalgias and joint pains caused by intense physical exertion.
Acts instantly by cooling down your tired muscles.
Provides a soothing and prolonged sensation of coolness at the muscle.
Reduces possible swelling and has anti-inflammatory properties.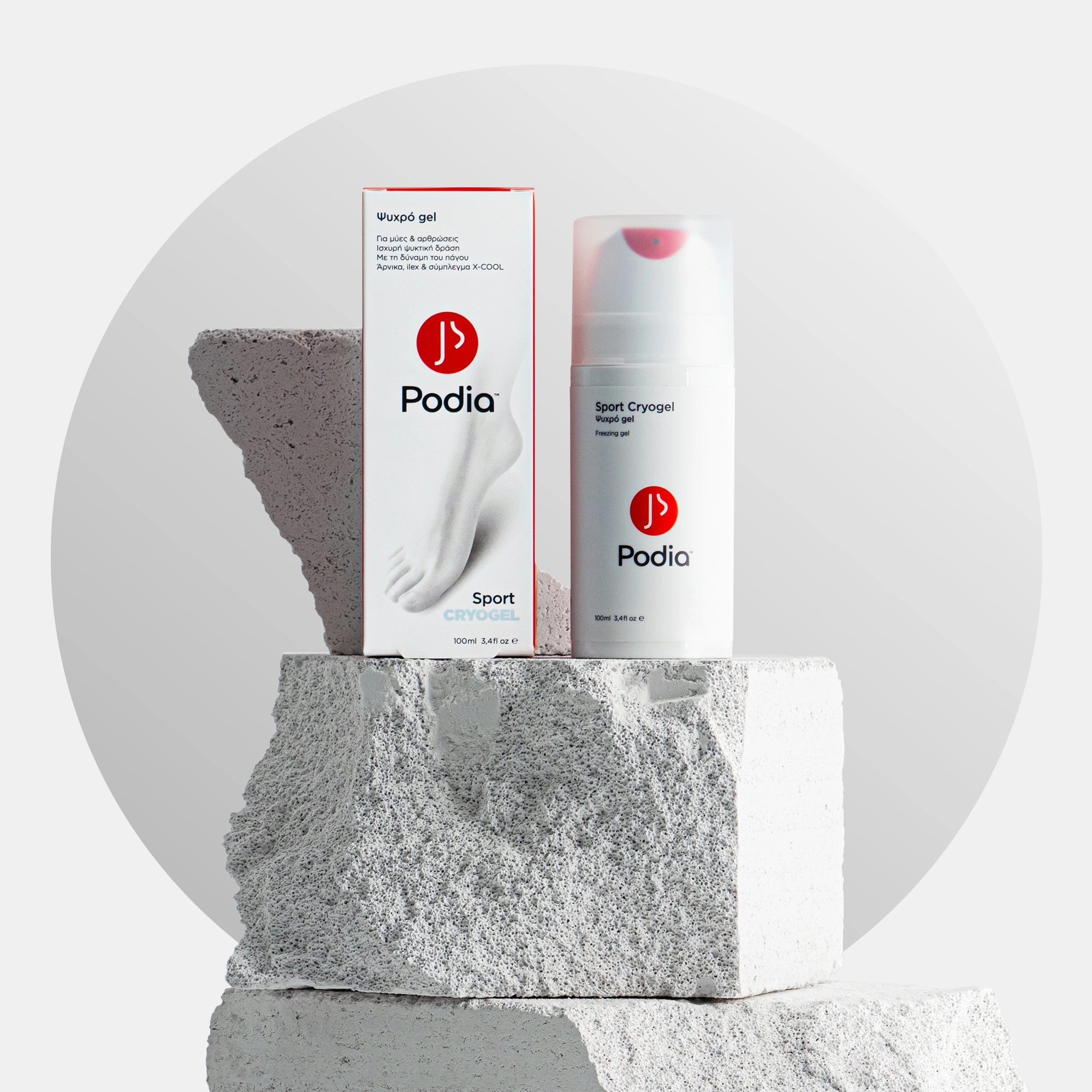 Suffering from muscle and joint pain?
Intense physical exertion can lead to muscle injuries and severe discomfort or pain in muscles and joints. This painful condition requires immediate care and attention to unexpected complications. Most common causes of muscle injuries are strenuous athletic activity, incorrect preparation, or even strain from activities that require intense physical effort.
Why does it hurt?
To put it simply: Pain is our body's most direct way to message potential danger. In our case, this "message" informs us about an injury, as a result of intense muscle function, which could lead to muscle tissue damage. Excessive stretching of the muscle, its possible stiffness, or the repetition of the same movements, are usually the main causes. Thus, this is the definition of a muscle strain.
How do you treat a muscle strain?
The treatment of a strain depends on its severity. But the most significant factor is the speed of our response to begin with its treatment. Podia has created a complete Cryogel against Muscle & Joint discomfort and pain, which aims at the instant relief and the prevention of the injury's aggravation.
Soothing and effective cooling sensation.
Anti-inflammatory properties.
Reduction of pain, swelling and skin irritations.
Ideal for joint pain.
Specialized treatment of muscle pain 
The specialized and innovative composition of Sport Cryogel against Muscle & Joint Discomfort is absorbed immediately and offers instant relief and coolness at the spot of sore muscle, while at the same time soothing the effects.
Extra Tip:
Can be refrigerated to enhance cooling prior to use.
Put it in the refrigerator, at least 1 hour before use, to increase the intensity and duration of the cooling sensation on the skin!
Read more
Video
Video title goes here
Curabitur quis diam et mauris dapibus tincidunt ullamcorper quis dolor. Curabitur et augue tincidunt, tristique felis vel, feugiat magna. Maecenas porttitor nisl est, in ultrices augue pharetra pulvinar. Proin hendrerit at tellus ac convallis. Nunc consectetur varius condimentum. Etiam ut accumsan dui. Nulla elementum venenatis turpis malesuada feugiat.
Holistic approach
Dealing with pain and strain effects
The specialized composition of Sport Cryogel against Muscle & Joint Discomfort, with arnica, ilex and X-COOL complex, works in the most complete way, by recognizing the injured muscle or joint, offers instant relief and treatment of pain, while offering a soothing sensation of coolness and reducing the time of recovery.
90% natural ingredients.
Targeted action on the soreness.
Comprehensive care with symptoms' treatment and prevention of aggravation.
Protected content
In a special Airless container
The smart and practical packaging of Sport Cryogel against Muscle & Joint Discomfort keeps its content Protected in a vacuum dispensing system, protects it effectively until the last application, and offers 360o of smooth and easy use.
Effective content protection
Optimal quality and longer product life
Easy to use with 360-degree multi-position dispensing
Full evacuation, no waste
Application tips
Instant and effective relief
Immediate treatment of muscle injury is of significant importance, as it can reduce the symptoms and the worsening of the injury.
Step 1
Make sure that your skin is clean and dry before using the product.
Step 2
Apply a sufficient amount of Sport Cryogel against Muscle & Joint Discomfort to the area of muscle injury.
Step 3
In case of a strained leg or arm muscle, apply a compression bandage to reduce the possible swelling.
Ingredients
Sport Cryogel against Muscle & Joint Discomfort
Ilex
With natural analgesic properties focusing on the spot of muscle injury.
X-COOL complex
Locates the spot of injury and offers instant relief, while offering a cooling sensation on the skin.

Menthol
It has a calming and refreshing effect, relieving the pain of the muscle injury.
Arnica
Arnica tincture has natural anti-inflammatory properties, while at the same time it contributes to the treatment of bruises. Effectively beneficial in cases of sprains, it also relieves the effects of rheumatism and contributes to the faster recovery of muscle strain.
Camphor
It locally increases blood flow, thus activating the mechanism of swelling treatment and pain relief.
Hyaluronic Acid
A core ingredient and important factor in skin regeneration and rehydration processes.

Parabens
Formulated without preservatives and Parabens.
Sport Cryogel against Muscle & Joint Discomfort is dermatologically tested.
Contraindications and Special Instructions
Avoid using the product in case of hypersensitivity to one or more of its ingredients.
Please note that the information provided on this site does not in any way replace medical advice and treatment. In case you have or suspect that you have any health problem, you should seek medical advice and ONLY follow the medical instructions. Always read the instructions for use and precautions mentioned in our product brochures carefully.
Οι επαγγελματιες μιλουν για το προϊον
Η γνώμη των ειδικών
FOLLOW OUR INTEGRATED CARE ROUTES
For the daily care of your feet
Because every step should comfortably lead you to the next one.
After Exercise, our feet have their own care needs. Just think of them being trapped in your sneakers. Thus, they need a complete care routine and hygiene treatment. Moreover, both our legs and our whole body may face muscle injuries or joint pain. Let's take look at a comprehensive care to meet all the needs after sports activity and exercise.
Blog
Useful articles and more information
DO YOU HAVE ANY QUESTIONS?
Just let us know!
COMBINE IT!
Suggested products